STERLING CASSEL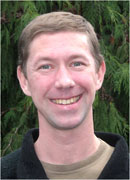 I graduated from The Rolf Institute of Structural Integration in Boulder, Colorado in 2005. I first became interested in Rolfing as a client seeking a solution to years of chronic pain. My experience with Rolfing had a profound effect on me. I found freedom in my structure I had never experienced before. My yoga practice was deepened. Running and bicycling were no longer painful activities. I noticed my body and mind were more at ease. These experiences made me want to share this amazing work with others.
My belief is that the Rolfing process can be a catalyst for easing pain, increasing flexibility, and improving posture. I work with people who are looking to bring more movement and flow into their bodies, whether they are serious athletes, work at a computer all day, or are interested in alternative therapies.
My interests outside of work as a Certified Rolfer include yoga, bicycling,
hiking, and spending time with my wife Jennifer and our two daughters,
Sonja and Otillie.
Articles:
Testimonials:

"Sterling is really talented at what he does. I had nerve problem in my foot for two years. I had been to three medical doctors and had been given shots. Nothing was helping me. Sterling Rolfed me and I have had little to no pain since then. If you ever have the chance to get the 10 series it will change your body!"
Jessica R.
---
"Sterling recently helped me out with some back pain. It was my first Rolfing session and I thought it was very effective and will definitely continue with Rolfing."
Greg Z.
---
"I went to see Sterling for just two sessions for numbness/tingling/pain in both arms that was similar to carpal tunnel symptoms. After two sessions with Sterling my symptoms were gone and have not returned. He does great work!"
Kristin K.
---
"I went to see Sterling Cassel for Rolfing and I highly recommend him. Try him out before you go get that massage it is a massage and more. He is knowledgeable and professional. I know I will be back to see him again in the near future."
Ashlee N.